[gigya height="360″ src="https://d3mlfyygrfdi2i.cloudfront.net/321f/kickplayer.swf?" flashvars="allowfullscreen=true&autostart=false&backcolor=000000&controlbar=over&file=https%3A%2F%2Fd2pq0u4uni88oo.cloudfront.net%2Fprojects%2F676068%2Fvideo-293517-h264_high.mp4&image=https%3A%2F%2Fs3.amazonaws.com%2Fksr%2Fprojects%2F676068%2Fphoto-full.jpg&project_creators=A+Video+Games+project+by+Adam+Pastorello&project_title=Adrift&project_url=http%3A%2F%2Fwww.kickstarter.com%2Fprojects%2Farpastorello%2Fadrift-0&screencolor=000000&skin=https%3A%2F%2Fd3mlfyygrfdi2i.cloudfront.net%2Fcc3a%2Fkickskin.swf&wmode=opaque" width="480″ ]
An indie game studio, Risen Games, has announced their next new game, Adrift, which is now seeking funding on Kickstarter, if successful on Kickstarter, it will be available on PC, Mac, and Linux if successfully funded, and will fully support cross-platform play. The new studio attempts to design their projects in a way that projects their love of gaming, they always work with the goal of creating original and addictive games that are free of ads.
Adrift is a cooperative game in which you and up to 5 friends work together to defend your colony as it drifts recklessly through hazardous regions of space that are home to marauding pirates and rogue asteroids. Choose your ship from three unique classes, each of which has its own weapon sets and skill trees.  Outfit your ship as you see fit from an array of weapons, armor, and engines, then head into space to test your mettle against hordes of incoming enemies and asteroids.  As the game progresses you will earn skill points which can be used to unlock unique abilities and perks, making your ship even more powerful!  When you kill an enemy, you can collect the scrap they leave behind which you can trade in for new ship parts, towers, and upgrades.
Build your defenses from a host of different towers, all of which are specialized for different situations and enemy types.  Lay minefields, place turrets, and construct walls to create an impenetrable defense that can survive the dangers of space.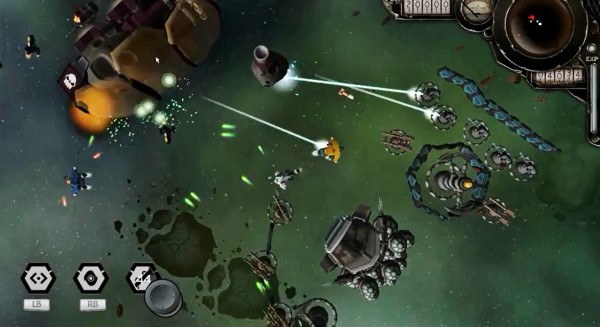 Join forces with your friends in up to six player co-op to tackle even greater threats.  Adrift's enemy generation system will auto-scale the difficulty based on the number of players in the game and the desired challenge level of those playing.
The new Adrift game is a little old school arcade feel with a unique mix of genres that seem to work well, it involves co-operative play, tower defense, dual-stick shooter, and even a RPG component.  With the option to go solo or team up with up to 5 others, players can choose different classes and abilities and are pitched against the hazards of space, including deadly asteroids and roving pirates, which they must repel in order to protect their tiny colony ship. Adrift is designed so player can customise the game in each play with many strategies to defend and win the game.
Reblogged from: capsulecomputers.com.au