Doug TenNapel, creator of Earthworm Jim (Interplay) and The Neverhood (Electronic Arts,) has partnered with Pencil Test Studios to create what some have called The Neverhood's "spiritual successor" – a clay and puppet animated adventure game called Armikrog. And they have taken to Kickstarter to get it funded.
The founders of Pencil Test Studios, Mike Dietz and Ed Schofield (also fromEarthworm Jim and The Neverhood), have assembled much of the original Neverhood development team to create a brand-new game that blurs the lines between art and technology, using stop-motion animation and sculpture to bring this project to life.
Armikrog follows the adventures of a space explorer named Tommynaut and his blind alien, a talking dog named Beak-Beak. They crash-land on a weird planet and end up locked in a mysterious fortress called Armikrog. Then…the adventure begins!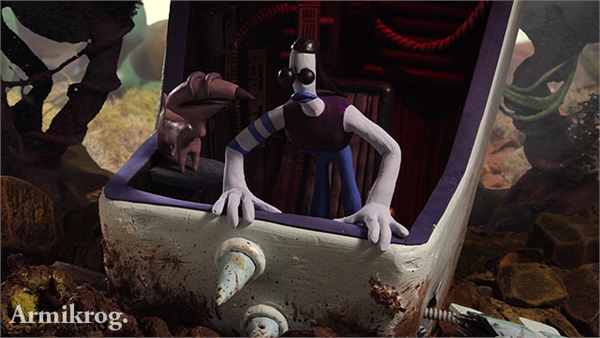 Armikrog is a point and click adventure game that features all of the characteristics of TenNapel's unmistakable style: quirky and lovable characters, unique worlds, a compelling story, mind-bending puzzles, great animation, and tons of clay.
Armikrog will be DRM-free for PC (Windows), Mac OS X and Linux, and distributed though Steam and/or other comparable download venues.
Armikrog is being developed by Pencil Test Studios, an independent game development company located in Lake Forest, California. Along with Doug TenNapel, the team includes core members from The Neverhood, as well as puppet fabricators, sculptors, and animators that will help to create the stop-motion that makes this project so unique.
The Neverhood was conceived and created from the ground up over a 12-month period. Armikrog will be developed using the Unity engine for PC, Mac, and Linux in order to secure the goal of completing the project within one year. The team will also be using many of the same animation, modeling, sculpting, set building and clay and puppet fabrication methods they've used before-keeping the overall game design scalable so that they can create a fun and exciting experience within their targeted funding goal, but still have the flexibility to expand, should the opportunity present itself.
According to the group's Kickstarter page, the Armikrog game will be comparable in size and scope to The Neverhood. "It's been noted that the initial funding goal is significantly less than the cost of the original Neverhood game – this is possible since we are now utilizing technology that was not available to us 15 years ago (Unity engine, postproduction and editing software, etc.) which will allow us to create this game more efficiently with a overall higher level of quality."
"In addition to our more conventional game production pipeline, we are also utilizing many of the same stop-motion techniques used in such feature films as ParaNorman and Nightmare Before Christmas. A significant portion of our budget is allocated toward puppet fabrication and sculpting, set building, lights, cameras, and lots and lots of clay! Stop-motion animation is an art all of its own. Each puppet, set, and prop is individually handcrafted by artists, while each and every frame is painstakingly animated. This specialized process is what makes this game unique – and we feel the time and talent that it takes to bring a project like this to this to life is worth every penny."
Reblogged from: cgw.com