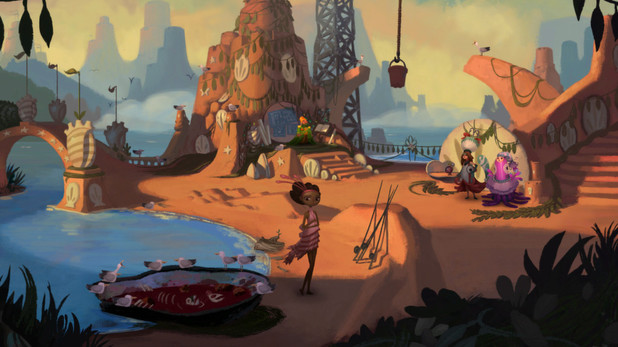 Double Fine has announced the #full Broken Age adventure will #release on all platforms on the same day. As well as the previously #confirmed Linux, Mac, Windows PC, iOS, Android and Ouya, PS4 and Vita versions, launching April 28th.
The complete Broken Age adventure (Acts 1 & 2) will be coming to PC, Mac, Linux, Ouya, iOS, Android, PS4 and PS Vita on April 28th!

— Double Fine (@DoubleFine) March 25, 2015
It was also added that the Linux, Mac and Windows PC versions will have cross-platform save support with the iOS and Android versions via Dropbox.
The PC versions were split into two parts, with the second and final act expected to launch the same day in April. The entire Broken Age adventure will be available to download from the PlayStation Store on April 28. The PlayStation versions feature cross-save and cross-buy support, letting users purchase it on one device and play it on both.
Act 1 is available now, and the act 2 conclusion will arrive as a free update!
Key Features:
Pointing
Clicking
Original soundtrack, composed by Peter McConnell, recorded by the Melbourne Symphony Orchestra
All-star voice cast, including Elijah Wood, Jack Black, Jennifer Hale, Wil Wheaton, and Pendleton Ward
Dialog Trees!
Some jokes. Unless you don't think they're funny, in which case we totally weren't trying to be funny.
A whole bunch of awesome PUZZLES
This one really hard puzzle that you won't get but you'll look it up online and not tell anybody
All your hopes and dreams
A title that was originally funded on Kickstarter, Broken Age follows a young boy and girl that lead parallel lives, choosing to escape their fates, chosen by her village to be sacrificed to a terrible monster.
The voice cast includes Elijah Wood, Jack Black, Pendleton Ward, Wil Wheaton and Jennifer Hale.