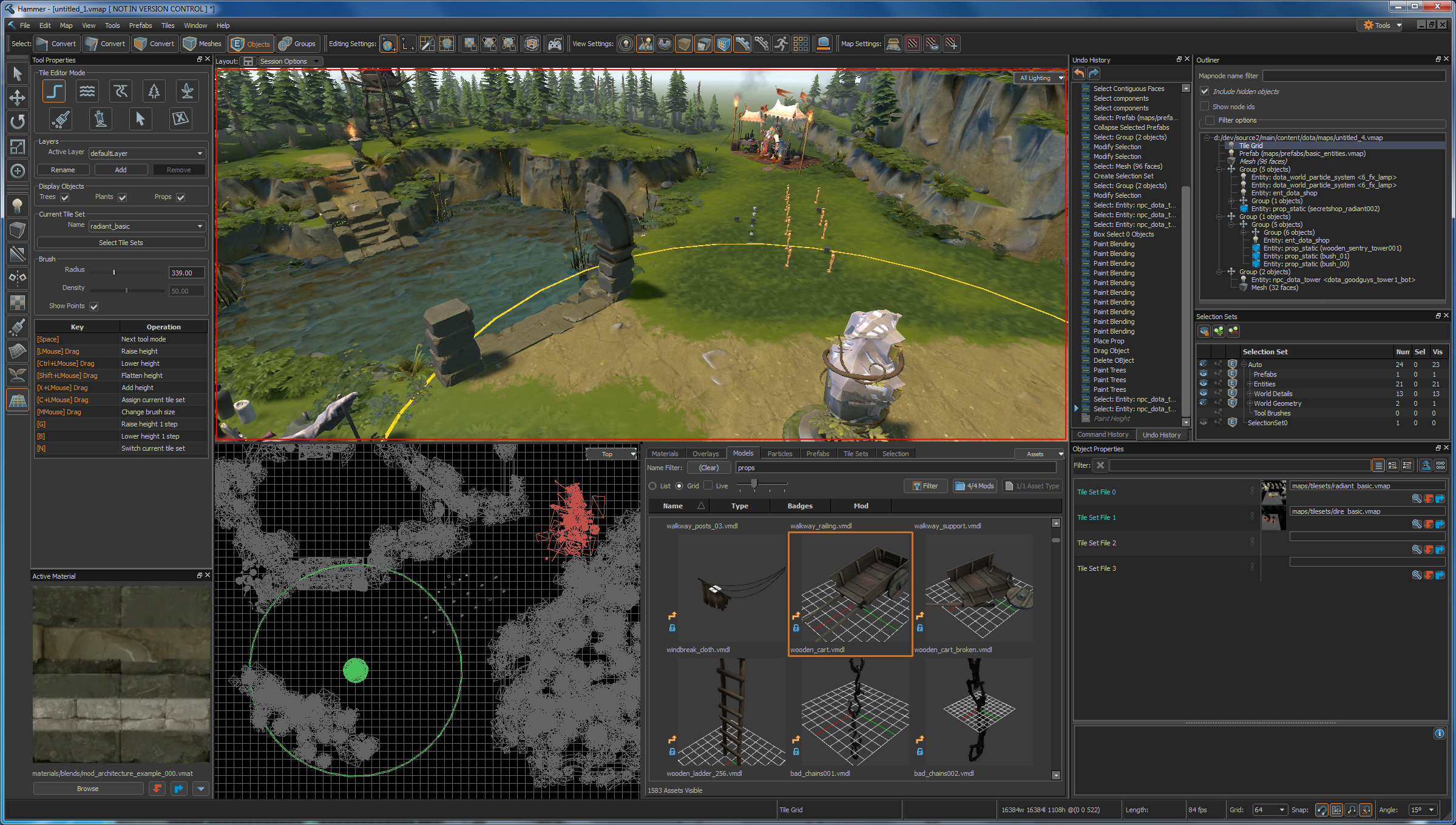 Dota 2 Reborn was announced last week, an update that will include a new engine and interface for Dota 2. Now Valve are highlighting custom games, and a look at exactly how these custom games will work.
"Custom Games are new experiences that are created by the community, and playable within Dota 2. These games can be anything from a grand brawl between ten Invokers, to a story-driven dungeon adventure, to something creative that no one has seen before. For us, Custom Games represent a continuation of the tradition that gave birth to Dota, Team Fortress and Counter-Strike. We'd like to build an ecosystem where you can experience something new every time you launch Dota 2."
New tools let you quickly create and iterate on your ideas:
HAMMER LEVEL EDITOR a new tile system to quickly lay out your map, then fine-tune your creation with its powerful 3D modeling tools. An embedded Asset Browser also lets you browse models, particles, and materials, and quickly drag them into the level editor. Use the powerful lighting options in the 3D view to see exactly what your creation will look like in-game.
MATERIAL EDITOR is used to create materials and import them easily into the game with the Material Editor. Tune shader parameters and update textures while viewing your changes live in-game.
MODEL EDITOR creators are able to preview model appearance and animations as well as author gameplay details such as hitboxes and attachment points.
Valve has given a guided tour of the developer tools and showing off example content to help you to create custom games. Giving creators a better idea of how build and edit your own levels, materials, models, effects, and Lua scripting which allow authors to create their own events.
But the update page seems to highlight quite a few Windows PC screenshots. Hopefully Valve has taken Linux into consideration, otherwise Steam for Linux users will have to use WINE to create custom games.
As of now, The Reborn beta is now available for everyone to download and play. However, Valve are "still putting the finishing touches on the Linux and Mac clients and hope to have them available in the coming weeks."