[gigya height="360″ src="https://d3mlfyygrfdi2i.cloudfront.net/321f/kickplayer.swf?" flashvars="allowfullscreen=true&autostart=false&backcolor=000000&controlbar=over&file=https%3A%2F%2Fd2pq0u4uni88oo.cloudfront.net%2Fprojects%2F408977%2Fvideo-263420-h264_high.mp4&image=https%3A%2F%2Fs3.amazonaws.com%2Fksr%2Fprojects%2F408977%2Fphoto-full.jpg&project_creators=A+Video+Games+project+by+John+Rhee&project_title=Liege&project_url=http%3A%2F%2Fwww.kickstarter.com%2Fprojects%2Fcodagames%2Fliege&screencolor=000000&skin=https%3A%2F%2Fd3mlfyygrfdi2i.cloudfront.net%2Fcc3a%2Fkickskin.swf&wmode=opaque" width="480″ ]
The developer of indie RPG hopeful Liege has just confirmed PlayStation 4 and Vita versions of its JRPG-inspired Kickstarter success.
Liege has so far earned $49,392 – three times its initial $15,000 target.
Last night, we passed our targets for PS4, Vita and Linux and then some! PS1 games like FF Tactics, FFVII, and Suikoden are some of my all time favorites, and they've been a huge influence on the design for Liege. I can't tell you how excited I am that we'll be bringing our game to Playstation, and of course, having the chance to get the game to our Linux fans is pretty cool too!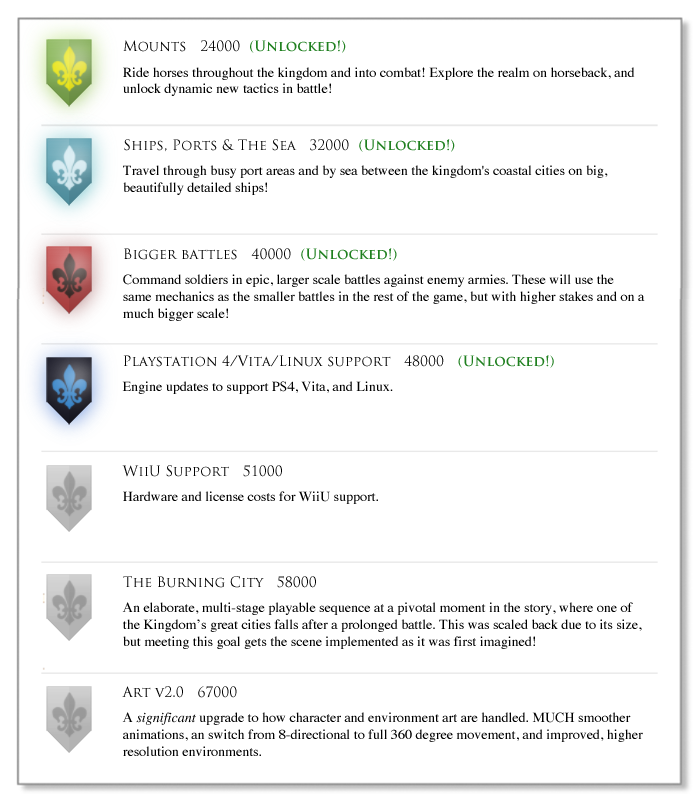 Some More Interviews

I've been answering lots more questions in some recent interviews. If you're interested in hearing me ramble some more about the game's details and its background, check them out here and here!

Some Cross Promotion: Organic Panic

Lastly, I wanted to take a quick minute to talk about another Kickstarter project that's currently funding called Organic Panic. They describe it as a cross between Worms and Little Big Planet, and it features some pretty awesome looking gameplay. I just met the guys who're developing it the other day after they demoed it at a gaming meetup in NY; they've been working on the game for five years now and it shows! Here's the link to their Kickstarter, and if you're in the NY area, they're also throwing together a little shindig if you want to come hang out!
Earlier stretch goals included adding horses, boats, ships, ports and the sea and "bigger battles".
Codagames is otherwise known as John Rhee, an independent games designer who quit his job outside the industry earlier this year to work full-time on Liege.
"Liege is an interactive epic about ordinary people like us, placed in fantastic, larger-than-life circumstances," Rhee described. "In equally vague terms, it's a game about family, power, love, death, and other way serious, totally heavy things."
There are three days left in Liege's Kickstarter if you're interested in pledging.
Reblogged from: eurogamer.net