Mighty No. 9 will be developed for Xbox One and PS4.
With only a couple hours to go before its Kickstarter campaign ends, Mighty No. 9 has generated more than $3,516,263 million in pledges, unlocking the next-gen stretch goal.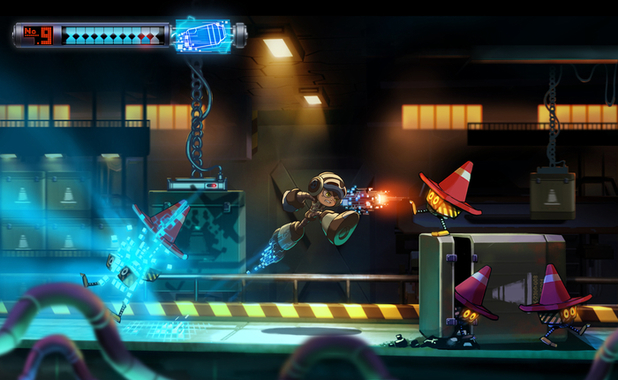 Mighty No 9 is the spiritual successor to Mega Man
If it receives $3.5 million in pledges, it will be ported to the 3DS and PlayStation Vita by Hotline Miami studio Abstraction Games.
Mighty No. 9 started life as a PC game, but will now be released on Xbox 360, PS3, Wii U, Mac and Linux, as well as next-gen consoles.
After hitting countless stretch goals during its time on Kickstarter, it will also benefit from additional levels and game modes.
Created by Mega Man co-designer Keiji Inafune, Mighty No. 9 is described as an "all-new Japanese side-scrolling action game that takes the best aspects of the 8- and 16-bit era classics you know and love, and transforms them with modern tech, fresh mechanics, and fan input".
Players control Beck, the ninth in a line of powerful robots who must run, jump and blast his way through stages using weapons and abilities stolen from enemies.
Early ideas for abilities include magnetic hands to climb walls and attract enemy shields, as well as spring-loaded arms to activate switches.
Backers will be surveyed about potential gameplay ideas and asked for their opinions on characters and design choices.
Rewards range from T-shirts and sketches to dinner with Keiji Inafune in Tokyo. Backers can also get their voices and faces added to the final game.
Watch the Mighty No. 9 Kickstarter video below:
[gigya height="360″ src="https://d3mlfyygrfdi2i.cloudfront.net/321f/kickplayer.swf?" flashvars="allowfullscreen=true&autostart=false&backcolor=000000&controlbar=over&file=https%3A%2F%2Fd2pq0u4uni88oo.cloudfront.net%2Fprojects%2F650594%2Fvideo-285354-h264_high.mp4&image=https%3A%2F%2Fs3.amazonaws.com%2Fksr%2Fprojects%2F650594%2Fphoto-full.jpg&project_creators=A+Video+Games+project+by+comcept+USA%2C+LLC&project_title=Mighty+No.+9&project_url=http%3A%2F%2Fwww.kickstarter.com%2Fprojects%2Fmightyno9%2Fmighty-no-9&screencolor=000000&skin=https%3A%2F%2Fd3mlfyygrfdi2i.cloudfront.net%2Fcc3a%2Fkickskin.swf&wmode=opaque" width="480″ ]
Reblogged from: digitalspy.com