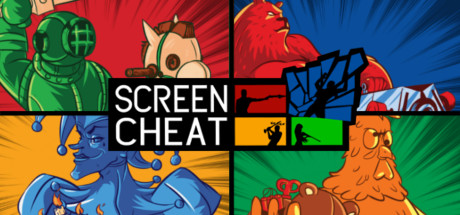 This week Surprise Attack released a major update for everyone who has #preordered Screencheat! Known as the Murder Mystery update, #SamuraiPunk has packed in a gigantic new map called Manor, and a brand #newmode.
For those who do not know, Screencheat is a first-person shooter that throws conventional split-screen multiplayer rules out the window and actively encourages players to look at their opponent's screen. As your enemies are invisible on your screen, it's impossible to find out where they are on the map without taking a not-so-sneaky peek at their screen. We say not-so-sneaky because in the world of Screencheat, it's not really cheating!

Screencheat was born out of the Global Game Jam 2014 and is being developed by the four man team – Samurai Punk. The full game is set to contain five colourful maps, five distinctive weapons and a wide variety of both online and offline multiplayer options that will promote questionable sportsmanship around the world.
Features:
Four player split-screen multiplayer that can be played both locally and online
Eight weapons
Five maps
Six different game modes that can be customized to keep things fresh
Full Steam integration
Full controller support, on top of standard mouse and keyboard functionality
And the new Murder Mystery update forces you to stop spamming Screencheat, while tracking your foes down in an intense game of cat and mouse.
Of course, Surprise Attach would love to get your feedback, so head over to this discussion.
Feel free to record the sessions, because if you manage to beat Samurai Nick in battle, that's quite an achievement!
So now it's heads down on hitting the October 21st release date. Making Screencheat feature complete now, and all that remains is polish and minor bug fixes before the release of version 1.0. And before we forget to mention, Screencheat is 34% off on Steam until the release date.