Developed by #Stillalive studios for PC, Mac and #Linux, Son of Nor ($17.99 USD) is set in Noshrac, a world inhabited by a minority of human survivors and a race of hostile creatures called Sarahul, both left behind by ancient Gods in a legacy of conflict. As a member of the last surviving humans with magical powers, the Sons of Nor defend all that's left and battle against the Sarahul to avoid total annihilation and ultimately extinction.
As a Son of Nor, consecrated by the Goddess of the Night, it is up to you to protect the human race against total extinction. While the few remaining humans are cornered in The Edge of a vast desert world, you fight the Sarahul, an enemy from the past. On your journey you discover a labyrinth of ancient tunnels and magical, long forgotten powers that are well guarded by puzzles and traps. These mysterious structures were left behind by an unknown race thousands of years ago.
Starting with the abilities granted by your goddess Nor, telekinesis and terraforming, you will explore the world of Noshrac, gain access to new and mysterious powers, fight through enemy territory, and solve intricate puzzles.
As a Son of Nor, the World is your Weapon. Use it wisely.
Features in Early Access:
Progress through a large portion of the story with more to come.
Multiplayer debut with up to 4 players via Steam Matchmaking, or 2 players in local split screen co-op, or simply play alone.
Move and shape the desert using terraforming: raise or lower sand to gain tactical advantage, create barriers, trigger traps, or escape to higher ground.
Play your style – use telekinesis to pick up objects around you and use them as weapons or create levitating bridges.
Tear rocks out of canyon walls and hurl them at opponents, or use your telekinetic abilities to solve rewarding puzzles.
Enhance your abilities by gaining elemental powers like fire and wind to further enhance your powers. You can combine these elemental abilities to create even more powerful spells.
Become immersed in the world of Son of Nor: no GUI or HUD, everything is embedded naturally and intuitively in the world's environment.
Includes a subtle atmospheric sound track composed specifically for Son of Nor
Currently available on WIN and MAC right now, but coming soon for LINUX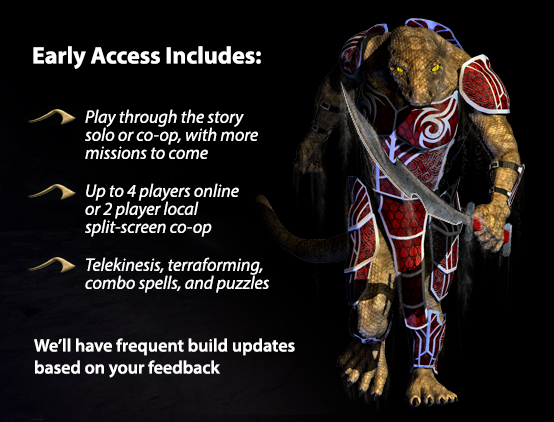 Gadgets:
Supports SteelSeries Sentry Eye tracking and tobii Eye tracker: Control your powers intuitively by using your eyes
Supports Oculus Virtual Reality headsets: Get ready for a truly immersive 3D experience
Supports Emotiv Brain Computer Interface: Unleash the power of your mind by casting magic with your thoughts for a truly immersive experience!
Son of Nor's dynamic game world features novel game mechanics like terraforming and telekinesis, which can be combined by the player. This unique ability to combine features allows players a new level of creativity in their actions. As players experience the world of Noshrac in Early Access, they will gain access to 14 levels of fully functional gameplay. The final launch will support various gadgets, including the Tobii eye tracker and Oculus. Multi-player (4 person) and local co-op (2 person) via split screen are also supported.