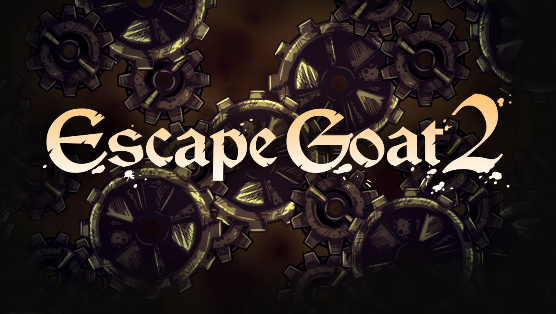 The Paste Magazine post of How Ian Stocker Went from XNA Underdog to PAX 10 Prospect
Not every #developer starts putting together a creative work for the sake of #fame and fortune. For some, game development is a significant financial investment that could make or break a career. It's their means of putting food on the table, with creative passion taking a back seat to financial stability.
To others, the adventure begins as little more than a side project with an uncertain future. Ian Stocker, the founder of MagicalTimeBean and creator of a handful of successful Xbox Live Indie Games, never thought he'd be among the prestigious PAX 10 in 2013. For that matter, he wasn't even so sure he'd make any money from the projects that often stole his free time. His game development started as a hobby—one he barely tracked for fear of disappointment.
"I started with zero expectations," Stocker says, referencing his humble beginnings. "I originally planned to not even track the sales and ratings after launching, because I was doing this mainly as a fun side project, and didn't want to get too discouraged if people didn't like it. It was originally just an XNA project."
If you've never heard of Soulcaster or Escape Goat, you're not alone. Stocker's first few projects launched on Microsoft's often forgotten Indie Games segment of the Marketplace, which failed to grab much attention due to poor dashboard representation and sporadic software quality. Some smaller developers produced outstanding work on this now-extinct service, though, and the games MagicalTimeBean released were at the top of their class.
"I felt pretty confident in my design ability after Soulcaster launched and got some really good press. It rose to the top 20 on Xbox Live Indie Games, got a nod from Penny Arcade, and numerous mentions around the web," Stocker continues. "It wasn't something I was expecting. Though I returned to contract work after Soulcaster shipped, I started working on a sequel in my spare time."
Game development wasn't Stocker's occupational focus. His contract job took precedence, and even though his games were starting to attract some buzz, the money coming in wasn't enough to justify jumping into the industry full time. In a way, he was dislodged from the community at large, rarely even referring to himself as an "indie developer" until he could prove worthy.
"I had no communication with other indies during Soulcaster's development. I showed the game to friends, posted a couple YouTube videos of prototypes, that sort of thing," he says. "Since it was a side project, I don't think I considered myself an indie developer back then, and I certainly wasn't taking part in any local meet-ups or anything like that."
People notice good work, though, and Escape Goat's move to the PC started to get Stocker's creations in front of more receptive eyes. The puzzle game about a purple goat imprisoned for witchcraft saw mentions on major publications like IGN, Destructoid and GamesRadar—leading to a brighter spotlight for the burgeoning MagicalTimeBean. The success spurred Stocker to start work on a sequel, but this time, everything would have to be bigger. More than 100 rooms to explore, branching pathways, and an entirely new art style were promised in the initial announcement, with the PC being noted as the only launch platform.
It was a much more ambitious game than Stocker had ever attempted. The linear level design and retro aesthetic seen in his previous work would be dropped for something that required a greater dedication to the craft, but it didn't take long for the hard work to pay off. Last July, Stocker learned that Escape Goat 2 had been named a member of the PAX 10—a nod reserved for only the most fun and creative indie games present at the yearly Penny Arcade Expo in Seattle.
"I got the news in an email while I was hosting a small party at my apartment. Randy, my artist, was there, and he was the first person I told about it," Stocker explains. "We shared a tender bro hug. It was one of those surreal 'we did it' moments, where I knew things were coming together."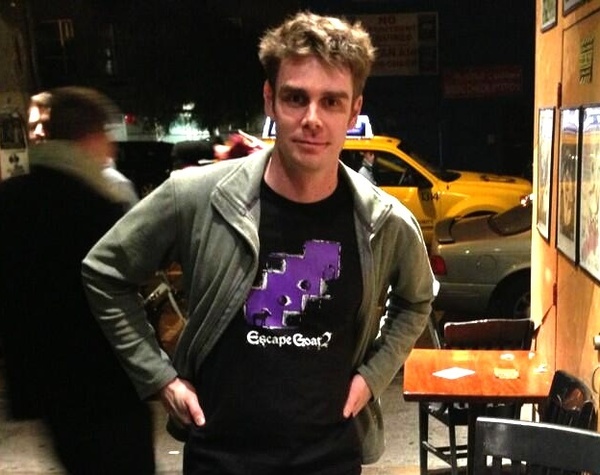 Ian StockerIt wasn't by accident that Escape Goat 2 got noticed by the group of 50 industry experts building the list of games to highlight. Stocker had done his research, and in the end, it's what he believes pushed his game over the edge.
"I will say that I attended a panel at PAX Dev the year before, where judges talked about the selection process, and what common pitfalls were. Basically, I gleaned that you can't have any sticking points in your experience in the first 15 minutes," he says. "Since Escape Goat 2 plays best with a controller, I put a lockout before the title screen which requires you to press Start on an Xbox controller to continue. This guarantees they're playing with the controller at that point. Relentless playtesting and reworking of the first few levels also must have helped."
PAX Prime is filled with industry experts and respected developers, but Stocker entered the showroom floor on a personal mission. The four-day event was all about presenting his game to as many attendees as possible and, in Stocker's eyes, it couldn't have gone much better.
"It went fantastically well. I got out of it every ounce I put in, but times 10," he happily reports. "But I had to put every ounce of energy into it, so it left me wiped."
Stocker is slowly approaching his first big hit, but the journey from unknown part-timer to indie prospect hasn't been lined with bags of money and hand-delivered opportunities. Even if he's never felt regret about his current vocational road, the uncertainties have always been looming.
"Doubts come up from time to time, and there are some very discouraging experiences I've had, which I would say are unavoidable if you enter this line of work," he confesses. "To anyone thinking of going into indie development, I would say the following: Design your game around your strengths and the landscape of what resources you have available. Don't expect to make any real money for the first two years.
"Realistically, you could have a quality title, but if your marketing is weak (my marketing was very weak for the first couple years) nobody will know about it. If you want to do this as a hobby, don't worry about this part. But if you want to go full time indie, know that self-promotion is just as important as your game creating skills."
Reblogged from: pastemagazine.com