It has been announced by Steam that they will be contacting the developer of X-Plane 10, #LaminarResearch (Austin Meyer) for possible inclusion within the Steam application for Windows, Linux and Mac.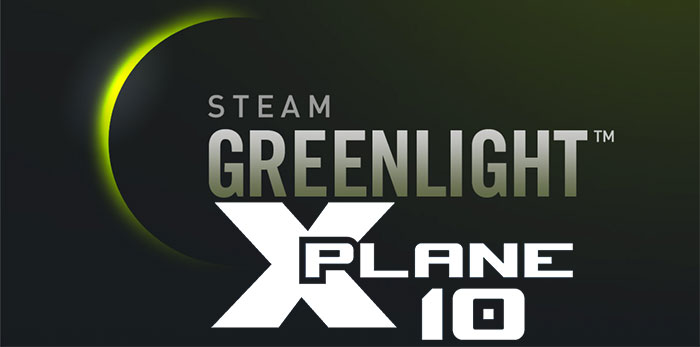 While this doesn't mean that X-Plane 10 will definitely become available on Steam, it does mean that progress is being made.
The users of Steam have voted for X-Plane 10's inclusion using Steam's system called "Greenlight", where users can submit/vote applications, games and software that they would like included within the Steam application.
So basically, Steam have agreed to include X-Plane 10 within the application because of user demand, but the final decision resides with Laminar Research.  If they say, "no we don't want to" – then it stops there.
I think opening up X-Plane 10 to the thousands of users of Steam is a great thing for the community.  Hopefully it'll kick start a spark back into the flight simulation community with many more new users realizing, "hey, I can fly aircraft on my PC!?".
Unlike Microsoft back in 2006 with their advertising campaign for Flight Simulator X, Laminar Research simply do not have the budget for TV and Internet wide advertising, so this kind of promotion (on Steam) would be great for X-Plane and in turn the entire flight sim community.
The key with the blanket advertising is capturing interested users – i.e. the type of people who are interested in aviation but simply do not know that they can, "fly aircraft on their computer".  This is what Microsoft did in 2006 with FSX and after that the community grew greatly – forums were bustling, add-ons were being created rapidly and the market was huge.  Now with the new generation, people are not aware of flight simulation at home as much as then… after all it has been 8 years since the TV campaigns for FSX.  The market is there, it's just a matter of getting them aware.
Another point worth mentioning is the sheer size of an X-Plane 10 installation.  I've only ever used Steam for playing around and I've noticed that most game installs take around 3-5 GB.  That wouldn't be the case with X-Plane.  The standard boxed edition comes with 8 dual-layer DVDs totaling around 80 GB.  If you have an older computer with a smaller hard drive, installation space could be an issue.  However, I'm sure that most users would be able to install 80 GB just fine.
As we already know, X-Plane can run on Windows, Mac and Linux – and so can Steam – so there is full compatibility all round.
Let's hope that X-Plane and Steam can make an agreement some time soon – this really is something we are all waiting for.
Let's hear your comments below.
If you don't want to wait for Steam, you can of course grab a copy of X-Plane over at SimShack.net.
Reblogged from: flyawaysimulation.com